The Elegeert Family Tree
PETER ELEGEERT, born 1876 in Belguim.
LOUISE BORYN, born 1875 in Belgium.
Married 1898 in Belgium.
Children:
(1) Evelyn Elegeert, born in 1898 and married George Stock. Evelyn was a nurse who did her training during the Prohibition days of Chicago.
(2) Olive Elaine Elegeert, born 1901 and married Louis Braspenninckx.
(3) Genevieve (Jane) Elegeert, born in 1904 and never married.
(4) Josephine Elegeert, born in 1904 and married Raymond Johnson.
(5) Thomas Elegeert married Beulah (Bea) in 1940 and recently passed away in 2002.
---
---
---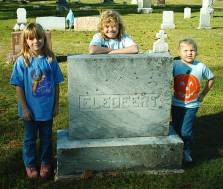 Above Gravestone photo:

Elegeert descendants: Katie, Allison and Kelly

visitng Elegeert Family gravesite in Gladstone, Michigan

(Oct. 2003)
---
---
---
If you are a direct descendant of the Peter and Louise Boryn - Elegeert Family,
please contact me and I can add your family information and/or photographs if you wish!
I can easily link to your family websites also.
I would love to hear from the Gladstone Elegeerts, Johnson's and Stock families!
Kathy Poston's e-mail:
webmaster@peltierfamily.freeservers.com
Updated Last: 12/08/2006