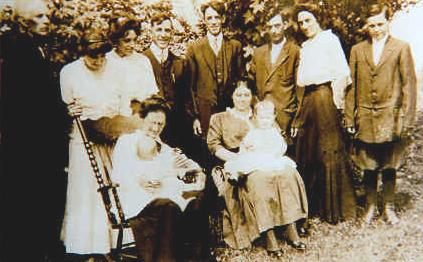 Leonard Peltier and Margaret Freton Family Photographs

Above photo: Leonard, Mabel, Elizabeth, Clarence, Noah, Arthur, Mary, Henry Furton (Martha Furton's brother). Sitting is Margaret w/ baby Thelma and Martha w/ toddler Elsie on her lap. (Thelma and Elsie are Noah & Martha Furton-Peltier's children)

LEONARD PELTIER was born in 1846 in Chesterfield Twp, Macomb Co., MI, son of Antoine Peltier Sr. and Angelique Jacques, married MARGARET FRETON who was born in 1856 in Chesterfield Twp., Macomb Co., MI., daughter of Magalore (Michael) Freton (Forton) and Lucia (Lucy-Malinda) Rivard, in 1880 in Mt. Clemens, Michigan.

Leonard and Margaret had 9 children of which 8 lived to adulthood. Leonard Peltier farmed and lived on the same property his father Antoine Peltier Sr. bought from his brother Charles Peltier Jr.(b. 1794)in 1831.

Leonard and Margaret's children are as follows:

1)Eli J. Peltier was born about 1882 and died in 1884.

2) Mary Alice Peltier was born in 1883 and died in 1970.

3) Elizabeth Peltier was born in 1885 and died in 1966.

4) Noah Joseph Peltier was born in 1887 and died in 1967.

5) Arthur N. Peltier was born in 1888 and died in 1962.

6) Priscilla M. Peltier was born in 1891 and died in 1978.

7) Clarence Amos Peltier was born in and died ???.

8) Mabel Selina Peltier was born in 1895 and died in 1992.

9) Della Leila Peltier was born in 1897 and died in 1977.



---


Leonard Peltier & Margaret Freton / Forton - circa 1880
Wedding Photograph of Leonard and Margaret....married in 1880.

Leonard Peltier
Circa ~1880-1883 photograph.

Margaret Freton / Furton
Lovely photograph of young Margaret Freton / Furton. Circa ~1874-1880. Copy from a tin type photograph.

Mary Alice Peltier
Oldest daughter of Leonard and Margaret Peltier.
1883-1970.

Elizabeth Peltier
1885-1966


Margaret and Leonard Peltier - circa 1922
Daughters Della and Mabel Peltier standing. Margaret and Leonard Peltier sitting.
This photo was taken in Grosse Pointe Farms a year before Leonard died.
Peltier Family History and Stories
Antoine Peltier Sr. first purchased his land in 1831 from his brother Charles Peltier Jr. (b.1794) for $. Land Map records show by 1895 that Leonard Peltier, Antoine's son, has ownership of the land. It is known though that Antoine died in 1883 and the farm and property was bequeathed to Leonard. Antoine died at home on the family farm and is buried at St. Peter's Catholic Cemetery in Michigan. Angelique, Leonard's mother, lived with her son and his family until her death in 1895. Macomb County census records show Leonard as the head of the household in the 1870 and 1880 census records with Angelqiue listed as his mother and living there. Angelique died in 1895 on the family farm and is buried with Antoine in the St. Peter's Catholic Cemetery.

Leonard and Margaret Freton-Peltier raised their children on the family farm in Chesterfield Township. The main crop was hay but the farm was also a full operating farm...corn, crops, gardens and animals.

I have been told that on the Peltier property was an Indian burial mound and that the Peltier family would not disturb it. Many indian head arrows have been found on the farm, especially during planting season.

The Peltier farm was sold in the 1920's for back taxes.